INGREDIENTS
1 kg chicken nibbles or wings
½ cup hoisin sauce
¼ cup sweet chilli sauce
1 Tbsp wholegrain mustard
¼ cup honey
1 Tbsp oil
1 Tbsp sesame seeds, toasted
2 Tbsp fresh coriander
METHOD
To marinate:
1. Mix hoisin sauce, sweet chilli sauce, mustard, honey and oil together.
2. Add chicken and toss to combine. Cover and refrigerate for minimum of 30 minutes.
To cook:
1. Preheat the oven to 200˚C.
2. Carefully line roasting tray and spread chicken out. Pour over sauce evenly.
3. Roast for 30 to 35 minutes until cooked and well browned.

Sprinkle with sesame seeds and garnish with chopped coriander and enjoy!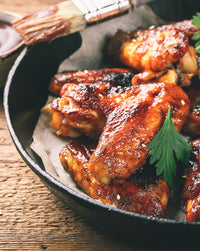 Leave a comment (all fields required)
Comments will be approved before showing up.