Spinach and Blueberry Smoothie (Dairy-free!)
This spinach and blueberry smoothie is a delicious and refreshing way to get your daily dose of fruits and vegetables. Both creamy and sweet, this smoothie is a healthy and nutritious breakfast or snack option.
INGREDIENTS
1 cup baby spinach leaves
1 cup plant-based milk
1/2 cup coconut yoghurt
1 cup blueberries
1 banana
1/4 cup rolled oats
1 tsp spirulina powder
honey (optional)
METHOD
1. In a blender, pulse together the spinach and milk first.
2. Add in the remaining ingredients and blend until smooth.
3. Taste and add honey if needed. Serve immediately and enjoy!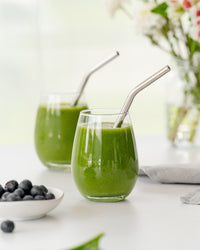 Leave a comment (all fields required)
Comments will be approved before showing up.