INGREDIENTS
1 side of salmon, skin on
1 lemon
1 clove garlic, crushed
2 Tbsp olive oil
1 Tbsp chopped rosemary
Zest of 1 lemon
1 tsp lemon juice
2 tsp smoked paprika
2 tsp ground cumin
2 Tbsp brown sugar
Salt and ground pepper
METHOD
1. Preheat the oven to 200˚C. Carefully line roasting tray.
2. Remove pin bone from salmon using tweezers and place on lined tray.
3. Cut lemon in half then slice thinly. Lay across the length of the salmon.
4. Combine all remaining ingredients in bowl and season. Spread the glaze evenly over the salmon.
5. Roast for 10-15minutes or until cooked to your liking, baste the salmon while cooking with the run off sauce.

Allow to cool, slice or leave whole and enjoy!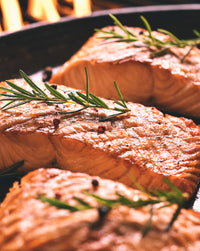 Leave a comment (all fields required)
Comments will be approved before showing up.