The classic sticky, dreamy, soft-centred, crispy-topped treat that every sweet tooth loves.
INGREDIENTS
1 ¾ cup pitted dates, halved
1 cup boiling water
1 tsp bicarbonate of soda
80g butter, at room temp
½ cup caster sugar
2 eggs
¾ cup self-raising flour, sifted
½ cup plain flour, sifted
¾ cup cream
1 cup lightly packed brown sugar
60g unsalted butter, chopped
METHOD
1. Preheat oven to 180°C. Brush six 185ml (3/4-cup) non-stick muffin pans with melted butter to lightly grease. Line the bases with non-stick baking paper.
2. Combine the dates, water and bicarbonate of soda in a bowl. Set aside for 10 minutes to soften. Use a fork to coarsely mash.
3. Use an electric beater to beat the butter and caster sugar in a bowl until pale and creamy. Add the eggs, 1 at a time, beating well after each addition. Fold in the date mixture and the combined flour. Spoon the mixture into the prepared pans and smooth the surfaces. Bake in oven for 25-30 minutes or until the surfaces spring back when lightly tapped. Set aside in the pans for 5 minutes to stand before turning onto a wire rack to cool slightly.
4. Meanwhile, place the pouring cream, brown sugar and unsalted butter in a saucepan over medium heat. Cook, stirring, for 5 minutes or until smooth.
5. Divide the puddings among serving plates. Drizzle over the sauce to serve.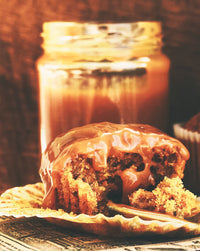 Leave a comment (all fields required)
Comments will be approved before showing up.