These maple and walnut mouth sized treats, with the most delicious maple frosting are impossible to resist 
MUFFIN INGREDIENTS
2 ½ cup all-purpose flour
2 tsp baking powder
1 tsp baking soda
½ tsp salt
¾ tsp ground ginger
½ cup room temp unsalted butter
½ cup brown sugar
2 large eggs
1 ¼ cup maple syrup
½ cup buttermilk
½ cup chopped walnut
FROSTING INGREDIENTS
1 cup of cream cheese
3 Tbs unsalted buttter (softened)
½ cup brown sugar
4 Tbs Maple Syrup
generous pinch of sea salt
1 tsp of vanilla essence
3 cups of icing sugar
METHOD
1. Preheat oven 180°C & insert cupcake cases into muffin tray.
2. In a mixing bowl, combine flour, baking powder, baking soda, salt, and ginger.
3. In a separate bowl, beat the butter and sugar together until fluffy. Add the eggs, syrup, and vanilla to the butter/sugar mixture.
4. Slowly add the flour mixture, alternating with the buttermilk. Fold in walnuts.
5. Add batter to each cupcake case until 3/4 of the way full.
6. Bake 18-20 minutes or until toothpick comes out clean.
7.Cool completely before frosting.
For Frosting Mix together butter, cream cheese, brown sugar, and salt in a medium bowl on medium speed for 2-3 minutes. While beating, add the maple syrup and vanilla. Slowly add the confectioners' sugar a bit at a time until combined. Continue mixing on high speed for an additional minute until light and fluffy. Place frosting in the refrigerator and let chill for at least 1 hour before spreading onto cupcakes.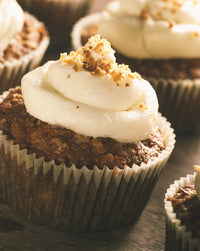 Leave a comment (all fields required)
Comments will be approved before showing up.