Fill your home with the heavenly smell of these the dreamy, soft-centred, crispy-topped treat.
INGREDIENTS
1 cup caster sugar
1 tsp baking soda
1 ¾ cup flour
¾ cup chocolate chips
1 egg
1 cup plain vanilla yoghurt
½ cup milk
Dash of vanilla
100g butter
METHOD
1. Preheat oven 190 degrees Celsius & grease muffin tray well .
2. Melt butter and add milk, yoghurt, egg & vanilla. Mix until combined. Sift dry ingredients into large bowl, and add wet ingredients. Fold but do not overmix. 
3. Cook for 14 mins (baking times may vary depending on your oven). You'll know its done when a skewer inserted in the centre comes out dry.
4. Leave to stand for a few minutes before turning onto cooling rack. 
5. Best served warm!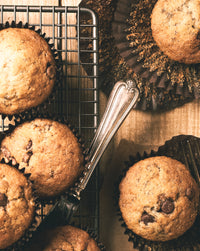 Leave a comment (all fields required)
Comments will be approved before showing up.