Roast Chicken and Balsamic Tomato Pizza
INGREDIENTS
1 x brought or home made pizza base
2 chicken breasts
90g goats cheese
1 capsicum or 2 large tomatoes – sliced
2T balsamic vinegar
2T brown sugar
Basil
METHOD
1. Preheat oven 200 degrees Celsius. 
2. Drizzle capsicum or tomatoes with balsamic vinegar and sugar, and bake in a baking dish for approx. 20 minutes or until tomatoes are soft.
3. While tomatoes are cooking BBQ or pan fry chicken until cooked through. Cut into thin slices.
4. Place pizza base on pizza pan, cook for approx. 10 minutes until browned lightly.
5. Remove base from oven & top with tomatoes, chicken, cheese and any additional toppings of your preference – Cook for approx. 10 minutes or until pizza is browned.
6. Top with fresh basil and olives (optional) before serving.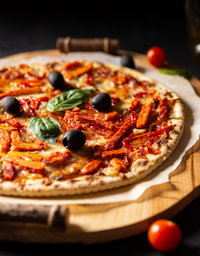 Leave a comment (all fields required)
Comments will be approved before showing up.