This classic is also perfect as mini individual cheesecakes in wee jars or muffin tins!
BASE INGREDIENTS
200g digestive biscuit, crushed
1/3 cup brown sugar (optional)
1/2 cup unsalted butter, melted
CHEESECAKE 
INGREDIENTS
1 1/4 cups cream 
680g cream cheese, softened to room temperature
1/4 cup sour cream, at room temperature
1/2 cup granulated sugar
2 Tablespoons icing sugar
2 teaspoons lemon juice and zest of a whole lemon
1 teaspoon pure vanilla extract
METHOD

1. Mix the crushed biscuits with melted butter and sugar.
2. Press mixture into a greased and lined 20cm springform tin and smooth down with the back of a spoon or spatula. Refrigerate for minimum of 15 minutes.

3. In large bowl beat the cream, cream cheese and sour cream until smooth and creamy. Add sugars lemon zest and vanilla and combine. Gradually add lemon juice, and continue to beat until smooth.
4. Add to biscuit base and cover. Chill in fridge for at least 6 hours or preferably overnight.
Can be made ahead of time and frozen - simply defrost in fridge before serving!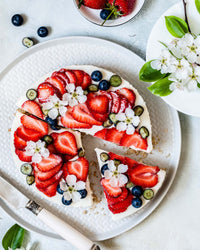 Leave a comment (all fields required)
Comments will be approved before showing up.