As soon as I saw this recipe for Cocoa and Berry Pavlova, I knew I had to try it. Combining berries and chocolate with a Kiwi classic - what more could you want!
INGREDIENTS
PAVLOVA
300g caster sugar
5 large eggs, whites, at room temperature
3 Tbs cocoa powder

TO SERVE
400ml full-fat crème fraîche
200g raspberries
100g blackberries
A little honey, to drizzle
A tub of Jude's Gooey Chocolate Brownie
METHOD
1. Preheat the oven to 150⁰C/fan 130⁰C /gas mark 2 and line a large baking tray with baking parchment. Draw a large circle with a 25cm (10in) diameter, on the underside of the parchment (ensuring no ink will be in contact with the meringue).
2. For the pavlova, put the sugar and egg whites in a large metal bowl and set over a pan of simmering water, ensuring that the base of the bowl is not in contact with the water. Cook for 5-7 minutes, scraping down the sides of the bowl and stirring occasionally with a rubber spatula until the sugar has melted and the liquid is warm, smooth and slightly cloudy. Pour this liquid into the bowl of a stand mixer or use an electric handheld whisk.
3. Whisk on high for 10-12 minutes until the meringue is cool to the touch and forms stiff peaks. Sprinkle the cocoa over the meringue and fold through, but don't overmix; it's nice to see swirls of cocoa through the meringue. 
4. Spoon the meringue onto the parchment in a large circle, using the template as a guide. Form a crater by making the sides a little higher than the centre - remember it will increase in size as the pavlova dries out. Transfer the tray to the middle of the oven and immediately reduce the temperature to 120⁰C /fan 100⁰C/gas mark ½. Cook the pavlova for 2-2½ hours, until the outside is crispy and the inside is marshmallow-like. 
5. Remove the tray from the oven and allow the pavlova to cool completely on the tray. Carefully peel off the baking parchment and transfer the pavlova to a flat board or plate.   
To serve: Pile on the crème fraîche and berries. Drizzle over a little runny honey and serve straight away, with scoops of ice cream.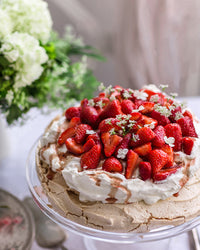 Leave a comment (all fields required)
Comments will be approved before showing up.