This infused vinegar is so easy to make, and can be used in most recipes which call for vinegar. Makes a great addition to salad dressings, drizzled on fish or to make a pan sauce!
INGREDIENTS
Fresh Lemons, scrub well
2 sprigs of Rosemary (basil or thyme are also favorites)
2 cups
 white wine 
vinegar 
Sugar to your taste
METHOD
1. Slice lemons and add to small pot. Add garlic and rosemary to pot.
2. Bring ingredients to boil, then remove from heat and leave to cool.
3. Once fully cooled pour into clean jar and leave to infuse in a cool dark place for 2-3 weeks.
4. Strain out lemon and rosemary and heat vinegar in small pan with sugar until sugar is dissolved. Cool and pour into bottle.
Store in pantry or fridge, use within 3 months!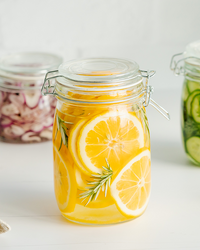 Leave a comment (all fields required)
Comments will be approved before showing up.