An old-fashioned sweet treat for the lunch box or afternoon snack
INGREDIENTS
125g butter
45g sugar
2 level dessert spoons of honey
Pinch of salt
4 cups rice bubbles
1 ½ cups milk chocolate chips
Ice block sticks
Sprinkles (optional)
METHOD
1. Boil together the butter, sugar, honey and salt for 3 minutes.
2. Fold through rice bubbles.
3. Press into oblong cake tin & refrigerate until hardened. 
4. Once hardened, cut into any size rectangles you want. Evenly space out the ice-block sticks on a tray with baking paper and place each treat on a stick.
5. Microwave the chocolate chips in a small bowl at 20 second intervals. Stir each time until the chocolate has melted all the way.
6. Dip the treats in the melted chocolate, gently shaking off any excess. Add sprinkles on top and allow chocolate to harden before serving.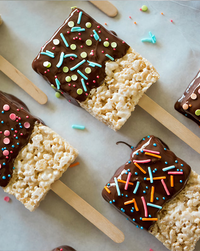 Leave a comment (all fields required)
Comments will be approved before showing up.