Fruity dessert treat, stacked with delicious sweet berries
INGREDIENTS
CRUST
2 cups plain flour
3 Tbs caster sugar
2 Tbs cold water
150g cold butter, chopped
FILLING
2 cup mascarpone
½ cup caster sugar
1 cup white chocolate, broken into small pieces
2 cups berries (fresh or frozen)
METHOD
1. Preheat oven 180 degrees Celsius. Grease base of tart tin.
2. Blitz butter, sugar & flour in a food processer until mix is like fine breadcrumbs. Slowly add iced water to form a smooth dough (may need
to add more). Kneed lightly, then placed covered in the fridge for approx. 25 minutes. Roll out on a floured surface, until approx. 3 mm thick or whatever thickness is preferred. Line tart tin, then top with baking paper. Top baking paper with baking weights or uncooked rice.
3. Bake for 10 mins, remove weights & then for another 12 minutes until pastry is starting to brown. (Baking times may vary depending on
your oven). You'll know its done when a skewer inserted in the centre comes out dry.
4. Cool.
5. Beat mascarpone with caster sugar until well blended. Fold in white chocolate. Fill cooled tart base and top with berries. Serve immediately.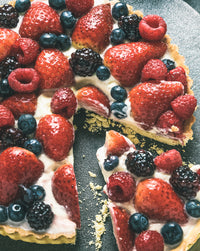 Leave a comment (all fields required)
Comments will be approved before showing up.