INGREDIENTS
2 eggs
1 cup sugar
1 ½ cup grated carrot
½ cup chopped walnuts
¾ cup oil
½ tsp vanilla essence
1 cup flour
1 tsp baking soda
½ tsp mixed spice
30g butter, softened
120g cream cheese
2 tsp grated lemon rind
1 ½ cup icing sugar
METHOD
1. Preheat oven 180 degrees. Grease your springform cake pan and line the bottom with baking paper.
2. Mix dry ingredients, egg, sugar, vanilla and oil and beat well.
3. Stir in carrots and walnuts.
4. Bake for approx. 45-50 minutes (baking times may vary depending on your oven). You'll know its done when a skewer inserted in the centre comes out dry.
5. Ice with cream cheese icing when cold.
Tip: Bake two of these cakes and sandwich together with cream cheese icing for the ultimate carrot cake!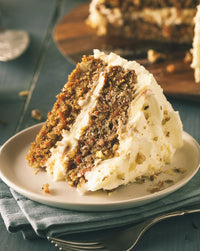 Leave a comment (all fields required)
Comments will be approved before showing up.