Try out this Grapefruit Marmalade recipe if you want a bit of a change from the original- spread it over some warm toast or use it as a glaze on your ham!
INGREDIENTS
3 large grapefruit, washed and dried
1 lemon, washed and dried
2 cups water
4 cup sugar
METHOD
1. Sterilise 2x 500ml jars.
2. Peel the grapefruits and lemon with a peeler avoiding the white inner part. Thinly slice the skin, should be around 3mm thick. Remove the white layer off the lemon and grapefruits, then roughly chop the fruit making sure you keep the juice.
3. Mix together the peels, chopped fruit and water in a medium saucepan over medium heat for about 10 minutes.
4. Once combined well, add sugar and reserved juice and bring to the boil, then turn heat to low. Let simmer for around 35-40 minutes or until thickened to a jam consistency. 
5. Transfer to jars and seal tight, then refrigerate for up to a couple of weeks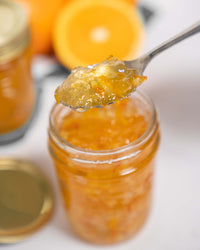 Leave a comment (all fields required)
Comments will be approved before showing up.