This classic is so rich and decadent; it is a chocolate lovers dream and the
ultimate dessert or cheeky snack
INGREDIENTS
2 C chocolate chips
¾ C cocoa powder
1 C of butter
2 C sugar
1 tsp baking powder
½ tsp salt
4 eggs
1 tsp vanilla extract
1 C flour
1 C walnuts
METHOD
1. Preheat oven 180 degrees Celsius. Grease your
oblong cake tin
and line with baking paper.
2. Melt the chocolate and butter over low heat, once fully melted leave to cool.
3. In separate bowl, beat eggs gently until light, add salt, baking powder, cocoa and sugar and beat gently until combined.
4. Gently fold into your egg mix the melted chocolate and butter. Once combined stir through the vanilla extract.
5. Add the flour and walnuts, Stir until combined.
6. Bake for approx. 30 minutes. (baking times may vary depending on your oven). You'll know its done when a skewer inserted in the centre comes out slightly sticky.
7. (optional) Icing: sift 3 cups icing sugar with ⅔ cup cocoa powder. Add 1 tsp vanilla essence and 5T milk. Beat until light and fluffy. Adjust to thicker or runnier texture by adding more milk or sugar.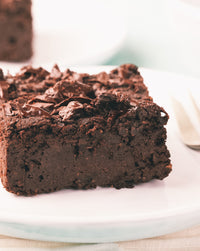 Leave a comment (all fields required)
Comments will be approved before showing up.