A delicious and nutrient-packed breakfast... what more could you
want! This Chia Breakfast Jar recipe is loaded with all the good
stuff from almond milk to honey - and we love adding in a bit of
cacao for when we're craving something chocolatey!
Makes a single serving
INGREDIENTS
1/4 cup chia seeds
1 cup almond milk
1 teaspoon honey
1/2 cup coconut yogurt
a dash of vanilla extract
zest of half a lime
optional 2 teaspoon cacao powder (for a chocolate twist )
Toppings - berries, peanut butter, mango, nuts, toasted coconut, cacao nibs
METHOD
1. Pop all ingredients apart from toppings into jar, stir well and store in fridge overnight. 
2. Top with all your favorites and enjoy.....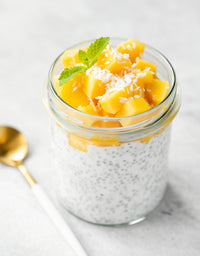 Leave a comment (all fields required)
Comments will be approved before showing up.