INGREDIENTS
2 eggs
¾ cup caster sugar
1 tsp vanilla extract
125g softened butter
1 cup mashed ripe bananas
¾ cup self raising flour
¾ cup flour
½ tsp baking soda
1 cup of fresh or frozen raspberries
METHOD
1. Preheat oven 180 degrees. Grease or line loaf pan.
2. Mix vanilla, sugar & butter. Add egg, stir in flours, baking soda, raspberries and banana and fold gently.
3. Cook for 50 mins (baking times may vary depending on your oven). You'll know its done when a skewer inserted in the centre comes out dry.
4. Serve warm.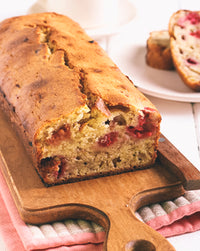 Leave a comment (all fields required)
Comments will be approved before showing up.