Apple and Cinnamon Pancakes
Step up your pancake game with this deluxe recipe for Apple and Cinnamon Pancakes. Stack up your plate with these soft, fluffy pancakes with a nutty, caramel sauce and tender, caramelised apples!
INGREDIENTS
1 ¼ cups milk
2 Tbs vinegar
1 ½ cups all-purpose flour
2 Tbs brown sugar
1 Tbs baking powder
1 ½ tsp ground cinnamon
½ tsp salt
1 large egg
2 Tbs butter, melted (more for cooking)
1 tsp vanilla extract
nuts or oats, to serve (optional)

APPLE
2 Tbs butter
2 apples, peeled, cored and chopped
2 Tbs brown sugar
½ tsp cinnamon
⅓ cup maple syrup

SAUCE
3 Tbs almond butter (any nut butter works, check out my recipe for homemade peanut butter!)
⅓ cup maple syrup
½ tsp vanilla
salt or cinnamon to taste
METHOD
1. In a small bowl, combine the milk and vinegar and let it rest for five minutes. While that is resting, in a large bowl whisk together flour, sugar, baking powder, cinnamon and salt.
2. Add egg, butter and vanilla to the milk mixture and whisk to combine. Add this mixture to the dry ingredients and whisk together. Be careful not to over mix the batter, it should still be a bit lumpy.
3. Heat a large frying pan over medium high heat and once hot add some butter. Cook pancakes until bubbles start to form then flip and cook for another 1 or 2 minutes.
4. To make the apples, add all the ingredients but the maple syrup to a sauce pan and stir over medium heat. Cook for about 5 minutes or until the apples are soft then mix in syrup.
5. To make the sauce, heat up your almond butter in the microwave or a saucepan so that it is runny. In a bowl, combine the maple syrup, vanilla and almond butter until smooth. Add salt or cinnamon to taste.
6. Assemble the pancakes by dishing the pancakes and topping with the sauce and apples. Sprinkle with your choice of nuts or oats (optional)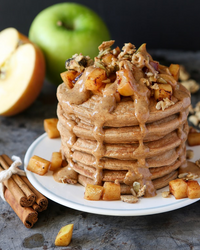 Leave a comment (all fields required)
Comments will be approved before showing up.