Classic, rustic flavours and comes together in minutes! When you're looking for something for dinner or wanting to stock up on sauce - try out this quick and easy recipe
INGREDIENTS
4 Tbs olive oil
5 cloves of garlic, minced
3 canned whole tomatoes
1/2 tsp salt
1/4 tsp red pepper flakes
1 tsp dried oregano
1/4 cup fresh basil, roughly chopped
METHOD
1. In a saucepan over medium, heat, add olive oil then garlic and cook until fragrant. Add canned tomatoes with the liquid then use a potato masher to lightly mash.
2. Add salt, pepper flakes oregano and basil leaves. Stir to combine then simmer over medium low for around 10 minutes or until thickened.
3. For a smoother texture, use a stick blender. Pour into sterilised jars and seal tight or serve right away over pasta.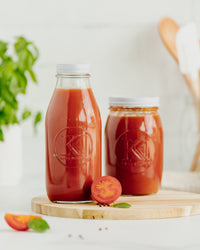 Leave a comment (all fields required)
Comments will be approved before showing up.