Burgers aren't complete without the crunch of a pickle in every bite! Try out this easy recipe so you always have a jar on hand.
INGREDIENTS
500g pickling cucumbers, washed and dried
1 onion, thinly sliced
2 Tbs salt
1 cup cider vinegar
1/2 cup white vinegar
1 cup sugar
1 Tbs yellow mustard seeds
1 Tbs black peppercorns
1 tsp coriander seeds
METHOD
1. Cut cucumbers into desired shapes, slices or sticks. In a large bowl, combine chopped cucumbers, chopped onions and salt. Cover and refrigerate for at least 4 hours. Rinse the cucumber and onions thoroughly then drain in a colander. 
2. In a saucepan over medium heat, mix together both vinegars, sugar, mustard seeds, peppercorns and coriander seeds. Stir until all dissolved then simmer for 3 minutes, remove from heat and leave to cool.
3. Pack drained cucumbers and onions into sterilised jars then pour warm vinegar mixture over it, making sure the cucumbers are completely covered. Seal and cool completely before refrigerating for at least 2 days before eating.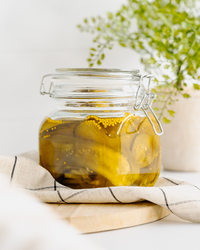 Leave a comment (all fields required)
Comments will be approved before showing up.