Snickerdoodle (and ice cream sandwich)
Give the store-bought ice cream sandwiches the flick and discover the pleasure of concocting your own combo of flavours. Use these snickerdoodles with this quick raspberry ice-cream for a summery dessert no one can resist. 
INGREDIENTS
1 cup Butter (softened)
1 1/2 cups Sugar
2 large Eggs
2 teaspoons Vanilla Extract
2 3/4 cup Flour
1 1/2 teaspoon Cream of Tartar
1/2 teaspoon Baking Soda
1/2 teaspoon Salt
3 tbs ground cinnamon + a sprinkle of sugar combined
METHOD
1. Cream butter and sugar in large mixing bowl until light and fluffy (about 5mins). Add the eggs and vanilla and cream for a further 1-2 minutes.
2. Sift in flour, cream of tartar, baking soda and salt and mix until combined.
4. Refrigerate wrapped dough for 20-30min until chilled.
5. Roll into small balls, coat in cinnamon and place on baking tray.
6. Bake for 8 to 10 minutes at 180C. Leave to cool on baking sheet before removing.
Leave ice cream at room temp for 20 min to soften before assembling!
Serve immediately!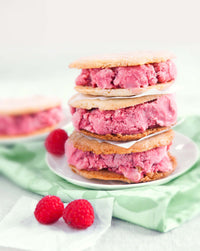 Leave a comment (all fields required)
Comments will be approved before showing up.