The easy-to-follow recipe allows you to make a batch of blackberry jam in no time, giving you the opportunity to enjoy the taste of summer all year round.Enjoy your homemade blackberry jam on toast, in yogurt, or as a topping for ice cream!
INGREDIENTS
4 cups fresh blackberries
3 cups granulated sugar
1/4 cup freshly squeezed lemon juice
METHOD
Wash and dry blackberries then add to a pan with sugar and lemon juice.
Stir in the sugar and lemon juice, then bring the mixture to a boil over medium heat.

Heat over low heat as sugar starts to slowly dissolve. Once all sugar has dissolved, increase heat to a rolling boil. Cook for 15 minutes, stirring regularly to avoid the bottom burning. 

Remove from heat and let the mixture cool for 5 minutes.
Spoon the jam into sterilized jars.
Let the jars cool completely on benchtop, then store in the fridge for up to 2 months.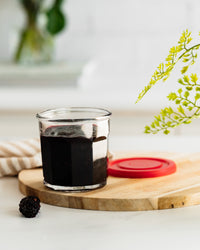 Leave a comment (all fields required)
Comments will be approved before showing up.