Indulge in a sweet and crunchy treat with our homemade Rocky Road! Dark chocolate, fluffy marshmallows, crunchy, nutty goodness come together in every bite. Perfect for satisfying your sweet tooth or adding a touch of nostalgia to your day.
INGREDIENTS
300g dark chocolate, chopped
125ml unsalted butter
1x can (400ml) sweetened condensed milk
5ml vanilla essence
200g marshmallows (cut preference)
150g Turkish Delight cut small (substitute for red liquorice if preferred)
175g crushed
digestive biscuits 
(or similar)
300g chopped nuts (such as almonds, pecans, or walnuts can add coconut also)
METHOD
Line a 22x33cm baking dish with parchment paper and set aside.
In a large saucepan, melt the chocolate and butter over low heat, stirring until smooth.
Stir in the sweetened condensed milk and vanilla extract until well combined.
Remove from heat and fold in the marshmallows, graham crackers, and chopped nuts.
Pour mixture into the prepared baking dish and smooth the top.
Let the mixture cool to room temperature, then refrigerate for at least 2 hours or until firm.
Cut into squares and serve or pop in jars for a cute gift.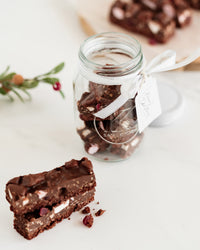 Leave a comment (all fields required)
Comments will be approved before showing up.