This simple, no-bake Lemon Pie is a great way to use up all those extra lemons, especially now that they're in season!
INGREDIENTS
250 grams sweet plain biscuits (like super wine)
125 grams butter, melted
¾ cup lemon juice
1 Tbs lemon zest
2 cans sweetened condensed milk
a few drops of yellow food colouring (optional)
METHOD
1. Process the biscuits until fine then add butter and mix to combine. Alternatively, pound the biscuits in a bag with a rolling pin then add to a mixing bowl with butter.
2. Press the biscuit mixture into a cake or tart pan, taking it up the sides too. Place in the fridge and cool for 15 minutes.
3. In a bowl, combine the lemon juice, zest, and milk until well combined. Pour this mixture into the tart pan then refrigerate overnight.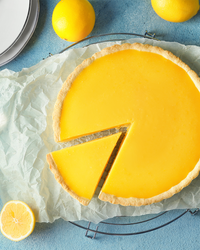 Leave a comment (all fields required)
Comments will be approved before showing up.