A savoury way to use up all those feijoas - this Feijoa Chutney is the perfect addition to any cheese board. Spread it across toast, crackers or in a sandwich for the ideal balance of sweet and tangy.
INGREDIENTS
1 kg feijoas, peeled
500 grams apples, peeled
300 grams onions, peeled
1 ½ cups white vinegar
2 cups brown sugar
1 tsp fresh ginger, peeled and grated
1 Tbs mixed spice
1 tsp mustard seeds
METHOD
1. Dice feijoas and apples, then chop the onions and add them all to a large preserving pan. Heat the mixture over medium low heat for about 5 minutes, stirring occasionally.
2. Add the vinegar and sugar then reduce to a low heat, stirring until the sugar has dissolved. Add ginger, mixed spice and mustard seeds then bring to a boil.
3. Reduce heat and let simmer for at least an hour or until the mixture becomes thick, stirring occasionally so the bottom doesn't stick.
4. Transfer to sterilised jars and seal it tight. Lasts up to three weeks in the fridge once opened.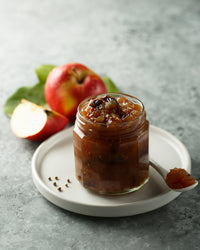 Leave a comment (all fields required)
Comments will be approved before showing up.