The one and only fudge recipe I make, white chocolate can be substituted and nuts and fruit added to your wildest imagination.
INGREDIENTS
2 x 400 gram cans of sweetened condensed milk
2 cups of brown sugar, firmly packed
250 grams of butter
100 ml liquid glucose syrup
3 Tbs golden syrup
400 grams milk chocolate, chopped
1 tsp of vanilla
METHOD
Spray and line with non stick baking paper, a 20 x 30 cm, quite deep (at least 4 cm) baking tin, or two smaller tins.
Place all ingredients, except the chocolate and vanilla, in a large heavy based saucepan and stir over medium heat until the butter melts and the sugar dissolves. Bring to the boil and boil gently until it becomes very thick and changes colour to a dark caramel brown paper shade – about 6 minutes, to the soft ball stage 116°C on a sugar thermometer. Remove from heat and stand until the bubbles subside. Stir in the chocolate and vanilla until melted and smooth.
Pour into the prepared tin and smooth the surface. Sprinkle over flaky salt if desired! Cool to room temperature ( about 3 hours ) then refrigerate until firm. Cut into squares. Store in an airtight container in the fridge for up to 6 weeks – if you have the self control!!!!!
'Recipe credit: Jo Seagar' - From Jo Seagar's The Cook School Recipes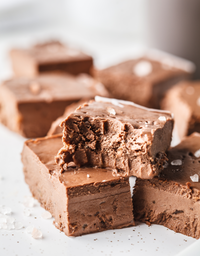 Leave a comment (all fields required)
Comments will be approved before showing up.