The perfect balance of tart and sweet this an easy bake for every huge cherry fans!
INGREDIENTS
150 gram butter, room temperature
⅔ cup (110g) icing sugar, plus extra to dust
1 ¾ cup (260g) plain flour
½ teaspoon ground cinnamon
½ cup (60g) ground walnuts
300 gram packet frozen cherries
METHOD
1. Preheat oven to 180°C or 160°C fan. Line or spray the base and sides of a slice pan with baking paper.
2. Using an electric mixer, beat butter and icing sugar together until pale and creamy. Sift flour with cinnamon and a pinch of salt and add to butter mixture with ground walnuts. Stir gently until a crumble mixture forms.
3. Reserve 1 cup of crumble mixture and press remaining into base of prepared pan. Top with cherries, sprinkle with reserved crumble mixture and bake for 35 minutes, until golden.
4. Remove from oven and cool completely in pan before lifting out. Dust with extra icing sugar and cut into squares to serve.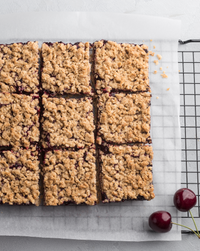 Leave a comment (all fields required)
Comments will be approved before showing up.