This dreamy creamy breakfast is to die for, play around with different dried fruits and nuts!
Serves 3.
2 cup rolled oats
1 cup apple juice
½ cup dried cranberries and dried apricots
2 Tbs lemon juice
2 medium cored apples, grated
½ cup natural yoghurt
½ cup chopped roasted almonds
2 Tbs honey
pinch of ground cloves
Place oats in jar. Add apple juice, cranberries or raisins, apricots and lemon juice, mix to combine. Leave to stand on the bench or in the fridge overnight. It will keep for up to 4 days in the fridge.Add grated apple, yogurt, honey and cloves in the morning and seal tightly. Pack nuts in capsule container and mix when ready to serve.
OPTIONAL: top with fresh blueberries or other fruit to serve.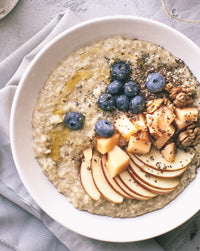 Leave a comment (all fields required)
Comments will be approved before showing up.