Baked Cherry and Yoghurt Cheesecake
Nothing screams delicious like a fresh baked cheesecake!
INGREDIENTS
1 ¼ cups malt biscuit crumbs
70g butter, melted
¾ cup caster sugar
400g jar cherries, drained with liquid reserved
2 eggs
750g cream cheese
200g Greek yoghurt
¼ cup caster sugar
2 tsp arrowroot with 1tbs cold water
METHOD
1. Preheat the oven to 180˚C and grease or line springform cake pan.
2. Combine biscuits and butter in bowl and press into base of pan. Chill for 15min.
3. Beat the 500g of cream cheese, ½ sugar and 1 tsp of vanilla using mixer or electric beaters, mix until smooth.
4. Beat in the eggs, one at a time. Pour mixture into prepared base and bake for 20min. Allow to cool for 5 min.
5. Next beat remaining cream cheese, sugar and vanilla until smooth, then add the yoghurt.
6.Pour over cooked base then bake for a further 10-15 minutes until just a little wobbly in center. Turn off oven and allow to cool with door slightly open.
7. Combine the cherry liquid with remaining sugar and arrowroot mix over a low heat until sugar is dissolved and syrup is thick.
8. Remove from heat and stir in cherries, cool. Serve the cheesecake with the cherries and syrup poured over!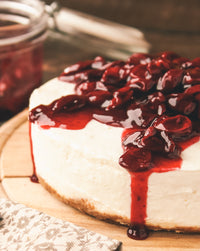 Leave a comment (all fields required)
Comments will be approved before showing up.