This Baked Camembert is a cheese and crackers essential, you can't have a wine and cheese night without it. Make it your own with additional seasonings such as rosemary, thyme, chilli flakes, olive oil, almonds - get creative!
INGREDIENTS
125 gram wheel of Camembert
Small handful of berries (I used cranberry)
Walnuts
1 Tbs honey
A sprig of thyme
Crackers or crostini to serve
METHOD
1. Preheat oven to 180°C. Line a
baking tray
with baking paper or foil.
2. Prepare the Camembert by carefully cutting off the top layer of rind (optional).
3. Score the top of the cheese in a criss-cross pattern. Spread honey and walnuts evenly over the top.
4. Bake on the middle rack for 8 minutes
5. Add berries and thyme and cook for a further 4 min
Serve straight away with crackers or crostini!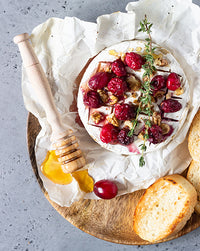 Leave a comment (all fields required)
Comments will be approved before showing up.