These Apple Roses are a bite-sized sweet treat that looks more complicated than it is - great for kids lunches or high tea! The sweet glaze, soft apples and flaky pastry come together to create a perfect rose to pretty to eat.
INGREDIENTS
2 red apples
1 Tbs lemon juice
1 Tbs butter, melted
2 ½ Tbs brown sugar (for apples)
1 Tbs flour, to dust the bench
1 sheet puff pastry
2 Tbs brown sugar (for pastry)
1 tsp ground cinnamon
1 Tbs honey
METHOD
1. Remove the pastry from the freezer and let it thaw. Spray or grease a 6 cup muffin pan.
2. Wash and cut apples in half then core them. Slice them thinly in half moons, leaving the peel on. Place in a large bowl and toss with lemon juice.
3. In a small bowl, combine the butter and sugar until dissolved. Microwave on low for 10 seconds bursts if it isn't dissolving. Add this to the apples, toss to coat and set aside for 10 minutes. After 10 minutes, apples should be a little bit soft and flexible, if not microwave for 10 seconds bursts. Strain the apples but keep the liquid for later.
4. Lightly flour the bench and roll out the pastry to get a rectangular shape (about 30cm long). Cut down the long edge to get 6 strips about 5cm each. Combine sugar and cinnamon, and dust over the strips of pastry. 
5. Working with one strip at a time, place the cut apples on the edge of the pastry with the skin facing out, overlapping each other. Start rolling up the pastry from one end then press down the end to seal the edge. Place the tart into a muffin cup and repeat with all the other strips.
6. Refrigerate muffin tray for 15 minutes while you heat the oven to 190°C. Then bake for 40 minutes or until lightly golden and take out of oven. Combine the leftover strained liquid from the apples with honey, microwave for 10 seconds bursts if not dissolving. Brush the tarts with honey mixture then bake for another 10 minutes or until golden brown.
7. Dust with icing sugar and serve warm.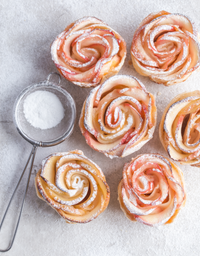 Comments (1 Response)
Leave a comment (all fields required)
Comments will be approved before showing up.