A simple, humble bowl of Watercress Soup is hard to beat and it is the perfect comfort meal on a cold night. Often you can buy fresh, big bunches of watercress at your local farmers' market.
INGREDIENTS
2 Tbs butter, unsalted
2 cloves of garlic, minced
2 onions
200 grams potatoes, peeled and diced
1 cup vegetable or chicken stock
1 cup water
1 bunch of fresh watercress, roughly chopped
salt and pepper, to taste
2 Tbs sour cream
METHOD
1. Add butter to a pot over medium heat, then once melted add garlic and onions and cook for about 5 minutes or until soft.
2. Add potatoes, stock, salt and pepper to the pot and stir to combine. Bring to a boil then reduce heat to simmer for 10 minutes. Add watercress and stir to combine, simmer for a further 5 minutes or until watercress is soft.
3. Remove from heat then blend until reaches your desired consistency. Taste and extra seasoning if needed. Stir in the sour cream.
4. Divide between bowls and serve warm. Top with croutons and parsley (optional)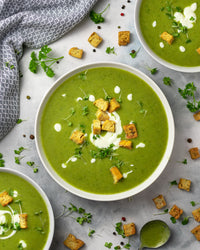 Leave a comment (all fields required)
Comments will be approved before showing up.