The Kiwi classic - do you think they taste like hokey pokey or just plain delicious! One of the best things about this recipe is that you probably already have everything you need in your pantry!
INGREDIENTS
125g Butter, room temperature 
½ cup Brown sugar
1 Tbs Golden syrup
1 Tbs Milk
1 ½ cups Flour
1 tsp Baking soda
METHOD
1. Preheat oven at 180°C, line
cookie tray
with baking paper.
2. In large bowl cream butter, sugar, syrup and milk.
3. Stir through golden syrup until combined. Next, mix through flour and baking soda.
4. Roll into balls and place on tray with plenty of room to spread. Gently press each ball flat.
5. Bake 15-20 minutes until golden. Allow at least 10 minutes before transferring to
cooling rack
.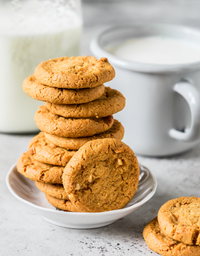 Leave a comment (all fields required)
Comments will be approved before showing up.